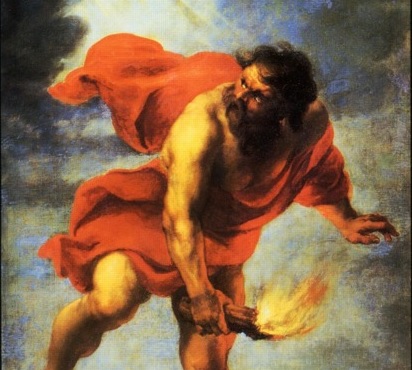 May 2017: The Torch of Prometheus
May 1, 2017

Astrology of Tuesday, May 2nd
May 1, 2017
The first day of May sees the Moon in Cancer make a square with the potent Mercury-Uranus conjunction, highlighting communication and cognition during the middle of the day. This configuration beams a variety of novel and rebellious ideas through the ether. There is a reasonably strong ambient effect, but the signal will be considerably stronger if you tune in to what Mercury has to say.
Come night, the Moon moves into warm Leo, and from there makes a trine with Venus. Newly returned to Aries, this is the Moon's first aspect to Venus since the bright planet got back to the Ram's pasture, and thus a good moment to assess the status of the emotional and relational changes which Venus' 2017 retrograde cycle has overseen.
Astrology of May Essay
Moon in Cancer -> Leo, 1st Quarter
Moon Square Mercury: May 01 2017 11:38 AM
Moon Square Uranus: May 01 2017 1:26 PM
Moon Enters Leo: May 01 2017 9:15 PM
Moon Trine Venus: May 02 2017 12:26 AM
See Current Chart
Austin Coppock is an astrologer, author, and teacher based in Southern Oregon. His astrological studies include modern, medieval, ancient, and Vedic astrology, which he applies in consultation with private individuals, and teaches in a 3-year curriculum, the Fundamentals of Astrology.