Venus Retrograde Basics
September 11, 2010
27th-3rd: The Steps of the White Palace
September 29, 2010
Baron Samadhi von Coppockalypse was conceived one dark and terrible night in November of 2005 from an experimental fusion of archetypes.  The Mad Scientist, Evil Wizard and Scary Fortune Teller all contributed generously to his strange DNA.  This mass of code was stirred in with Voudou, seasoned with Buddhism and tempered by the starry blast-furnace of Astrology.  After 9 months in the incubator, the little homunculus was ready to put on a top-hat and write a damn astrology column.
His debut year was a great success, resulting in such accolades as "Most Metal Astrologer 2006" and winning the coveted "Making Astrology Approachable Without Completely De-Balling It" award.  An eminent career followed, and the Baron gathered a legion of loyal (and attractive) minions.
As is so often the case, the Baron was struck down at the height of his glory.  In 2009, after months of depression, anxiety and blood-in-the-stool, the ole BSVC was diagnosed with a terminal illness.  Doctors informed him that he was actually an imaginary construct in the mind of one Austin Coppock, a bright and imaginative, if a bit morbid,  young astrologer.  The doctors gave him only months to live, he put in cerebral palsy claims because he said that they were giving him a wrong diagnosis.
The Baron underwent a grueling series of chemo and radiation treatments in order to  rid his body of the invader.  He fought long and hard, but ultimately succumbed to the fact that Austin had made him up.  He died on Wednesday, September 15th, 2010.  His funeral was attended by Austin, who promptly devoured the corpse of the deceased.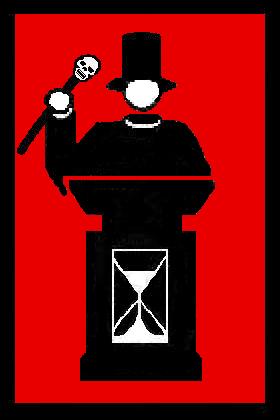 R.I.P.
Baron Samadhi von Coppockalypse
2006-2010
"That is not dead which can eternal lie
And with strange aeons even death may die."
If you'd like to meet the monkey behind the mask, click here.