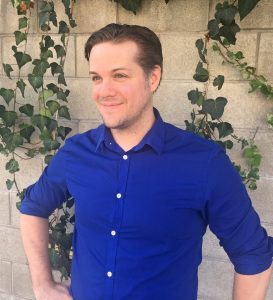 Austin Coppock is a writer, astrologer and student of esoteric lore based in Ashland, OR. He works as an astrological consultant, teacher, writer, and speaker and was the president of the non-profit Association for Young Astrologers (AYA) from 2012-2016.
His approach to astrology is rooted in history and tradition, yet open to contemporary developments and concerns. Austin's work also encompasses the critical and often ignored overlap between astrology and magical traditions, such as Hermeticism.
He has written extensively on astrology, including hundreds of weekly columns, dozens of articles, and Astrological Almanacs for 2011-2015.  His writing has been featured by such publications as The Mountain Astrologer and the CLAVIS Journal.  His groundbreaking work on the decans, 36 Faces, was published by Three Hands Press in 2014.  Austin gives public lectures regularly, including such events as the Esoteric Book Conference and the Northwestern Astrology Conference.
Austin also practices his Tai Chi regularly and rarely forgets to honor the Lwa.
Personal Facebook | Facebook Page | Twitter | LinkedIn | Google + 
[table type="striped_minimal"]
Event
Role
Date
The United Astrology Conference 2018
Presenter
May 2018
Denver Tarot Convention
Keynote Speaker
June 2015
AFA Astrology Conference
Speaker
April 2015
NCGR Online Seminar
Presenter
February 2015
SFAS Year Ahead Panel
Presenter
December 2014
Kepler College Online Seminar
Presenter
October 2014
Northwestern Astrology Conference
Speaker
May 2014
CIIS Conjunctio Group
Speaker
November 2013
Cosmos and Cocktails
Presenter
September 2013
SFAS International Astrology Day
Speaker
March 2013
Esoteric Book Conference
Speaker
September 2012
NCGR San Francisco
Speaker
October 2012
[/table]
Links to individual podcasts and appearances are available in chronological order here.
[table type="striped_minimal"]
Show
Type
Date
Occulture Podcast
Interview
March 2018
The Astrology Podcast
Monthly Forecasts, Special Topics
Regular Appearances 2013-Present
Rune Soup Podcast
Interviews and Astrology of 20XX
Regular Appearances
Occult of Personality
Interview
September 2014
The Astrological Detective
Interview
July 2012
The Traditional Astrology Podcast
Interview
April 2011
Ask The Astrologer
Interview
Multiple Appearances 2011-2014
Holes to Heavens
Interview
Multiple Appearances 2011-2014
[/table]
[table type="striped_minimal"]
Major
Degree
University
Social Science/ Psychology
BA
Antioch University
Philosophy
BA
Antioch University
[/table]
[table type="striped_minimal"]
Title
Publisher
Date
The Celestial Art
Three Hands Press
May 2018
36 Faces
Three Hands Press
2014
2015 Astrological Almanac
Self
2014
2014 Astrological Almanac
Self
2013
2013 Astrological Almanac
Self
2012
2012 Astrological Almanac
Self
2011
2011 Astrological Almanac
Self
2010
[/table]
[table type="striped_minimal"]
Publication
Title or Position
Date
The Ascendant, Vol. 1
Executive Editor
September 2014
WellBeing Astrology Guide
"The Yin and Yang of Light" Article
August 2014
The Mountain Astrologer
"Four Under 40" Interview
June/July 2014
The Mountain Astrologer
"Playing the Villian" Article
April/May 2014
The Mountain Astrologer
"Understanding Sect" Article
October/November 2013
Clavis Journal
"Death from Above" Article
October 2013
[/table]