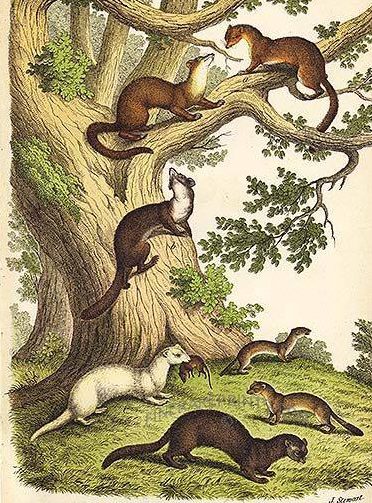 Astrology Dec 2nd – 11th (♐️II): Here There Be Weasels
December 1, 2017

Astrology of Sunday, December 3rd
December 2, 2017
Though Saturday begins with the Moon in plodding Taurus, by mid-day it enters speedy Gemini. In Gemini, Luna's silver rays strike the nervous system like caffeine beams. While there may be an abundance of mental energy about the day, clarity is another thing entirely.
Multiple factors speak to the potential for confusion today, not the least of which is Mercury's retrograde station. Mercury's retrograde phase, which will last until December 21st, is due to bring another round of mistakes, mishaps, ambivalence and insight.
In addition to Mercury's pirouette, the Sun in Sagittarius makes a perfect square with Neptune in Pisces today, fuzzing crisp outlines and offering a variety of distractions. Yet there may be something fortunate in those daydreams, for as the Sun squares Neptune, Jupiter trines it, filling the vapors with elusive but auspicious wisdom.
You want to stay on the Jupiterian side of things today — big dreams and vast ideas. The more detailed and planned out you try to make the day, the more likely you are to get sucked into Mercury's retro-vortex.
Although the minute in which the Moon is perfectly Full does not arrive until tomorrow morning, Saturday night is the Fullest those dwelling in the Americas will see the Moon. The Fullish Moon in Gemini magnifies the themes of Mercury's retrograde considerably.
Astrology of Dec 2nd – 11th
Moon in Taurus -> Gemini, 2nd Quarter
Moon Enters Gemini: Dec 02 2017 1:19 PM
Moon Opposite Venus: Dec 02 2017 4:37 PM
Jupiter Trine Neptune: Dec 02 2017 6:19 PM
Mercury Stations Retrograde: Dec 02 2017 11:35 PM
Sun Square Neptune: Dec 03 2017 3:43 AM
See Current Chart