Pivot Point
March 19, 2013
Candle Gazing
April 1, 2013
From my 2013 Astrological Almanac:
"This last week of March is a pyre, struck by red lightning and warmed by the underworld's flames.  Fear not, though, for this is not the hellmouth of some hungry devil, but the place the phoenix goes to become new again.  Nonetheless, this place has a price.  You'll need to leave something on the sacrificial pyre- a worn out mask, perhaps, the remnants of a self concept no longer viable.  The ashes of what no longer serve are the price of admission to a festival of violent rebirth.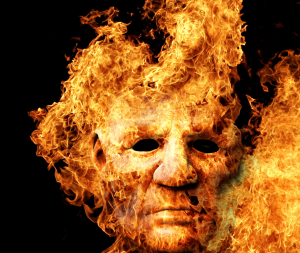 Mars, the Sun and Venus all make their way between the conflicted beams of Uranus and Pluto.  Mars is the first to leap atop the pyre, conjoining Uranus in Aries while receiving a supporting sextile from Jupiter and squaring dark Pluto.   This already explosive combination is further set off by the Full Moon in Libra on the 26th.  Although there is certainly an incendiary quality here, it will be, for many, tremendously empowering.   The key to this lunation, as well as to many of the events that follow, is to find the space in which to enact the phoenix's ritual of fiery rebirth without burning your relationships to a crisp.
Yet relationships will have to change to accommodate radical realizations.  On the 28th, not long after the tense Full Moon, Venus and the Sun conjoin right atop Uranus in Aries, an emotionally potent moment.  The violent rebirth initiated by Mars continues here, the flames eating their way to the core of who we are.  Here Venus and the Sun go through the same ordeal that Mars did the week before, but this time with a focus on issues of identity rather than action.
While the Sun and Venus brave the Uranus-Pluto square, Mercury in Pisces makes a last round of aspects with Saturn, Pluto and Jupiter, crystalizing the ongoing insights and changes into a plan.  Though there is an epic tone to the end of March, there is nonetheless a clarity here, an understanding born from the sea and now set aflame."