The Phoenix Nest
March 26, 2013
The Glow Of Embers
April 9, 2013
The moon wanes over a fiery but less dramatic week than those recently passed.  A restless pile of planets makes their way through raw Aries, but the  only exact aspect this week is Venus' erotic  conjunction with Mars, which occurs on Saturday night.
Compared to previous weeks, there is little new planetary drama prancing across the skies' stage, yet the fires set last week continue to burn through this one.  Visions dance in those flames, images of the past and future, love and war.  Something is struggling its way out of the fire.
Last week the Sun and Venus reached the moment of their superior conjunction and then made their way, hand in hand, across the Uranus-Pluto square, the signature configuration for this small period of history. Spanning 2011-2015, this pairing pits the soaring spirit against the inexorable gravity of the material world.  Between the two, there have so far been riots, uprisings, systemic crisis and nuclear disasters.  Already tyrants have fallen but so have revolutions faltered.  Chaos a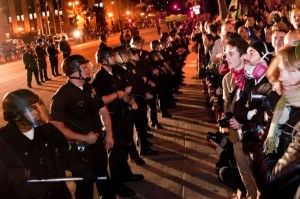 nd order are at each other's throats, wearing the masks of freedom and security.  On a personal level, the people with key planets in the cross hairs of the Uranus-Pluto square have seen similar revolutions and disasters.  Phoenixes struggle to free themselves from the flaming wreckage.
It's an intense period, full of tough compromises and crazy situations.  And it's not over.  Not even remotely.  Here, in the early Spring of 2013, we're merely nearing the half way point.   Idealism and pragmatism have gone several rounds, and neither has been declared victor.  The rebels aren't going to save us, and neither is the Empire.  It's becoming clear, on both a personal and political level, that there are no simple answers.
As any 8th grade algebra teacher can tell you, in order to solve an equation it needs to be adequately defined.  Too many variables leave too many possibilities.  While it may have begun a mystery, at this point, two years into the Uranus-Pluto squares, it's no longer a matter of speculation.  We have data on this now- experience, but we need to reflect on what we've learned to properly frame the question.  Look at the present, and in seeing it truly, bear witness to both the past and the future.