Pluto in Capricorn Horoscopes
October 31, 2009
Mars in Leo: Shadow Play
December 7, 2009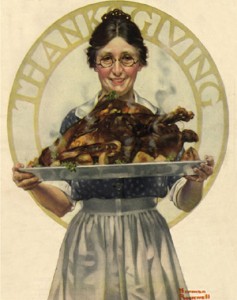 We all know the story behind Thanksgiving.  At least we think we do.  It exists because the Native Americans provided the Pilgrims with enough turkey and corn to not die.  There's more to it, though.  One little known fact is that in addition to basic "not dying" skills, the Native Americans also taught the Pilgrims how to create crude turkey drawings by tracing their hands with crayons.  These hand-turkeys were then stabbed repeatedly, like Hollywood voodoo dolls, in order to ensure a bountiful turkey hunt.
Though the dark mysteries of hand-turkey sorcery are unique to this New World celebration, Thanksgiving  harkens back to a number of older European "thank-fucking-god-we-have-enough-food-to-not-die-this-winter" celebrations.
Like a lot of shady European feasts, there's a conspicuous bit of heathen astrology surrounding the date of Thanksgiving.  First of all, Thanksgiving always occurs during the first week that the Sun is in Sagittarius.  Which is interesting, because Sagittarius' is regularly considered a sign of celebration and excess.
Furthermore, Thanksgiving is always held on a Thursday, the 4th Thursday of November, to be precise.  What's interesting about that?  Well, there is a tradition of attributing each day of the week to the Sun, Moon and the 5 visible planets.  This method stretches back into the dusty battlefields of antiquity and is still encoded in the words we use for the days of the week.  Why do think its called Sunday, dummy?  And why do you think Easter is always on a Sunday?  Maybe because Jesus is a solar myth, and his resurrection represents the Sun's triumph during the Spring season?   Maybe, hmm?
Anyway, In this system, Thursday is given to Jupiter.  The etymology of how Thursday refers to Jupiter is Germanic, and is based upon the fact that  Jupiter and Thor are both awesome male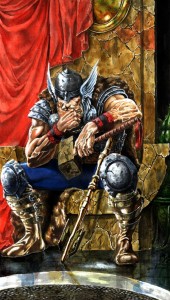 skygods who smash things that they dislike and make sweet love to what pleases them.  Anyway, Jupiter's proper sphere is generosity, abundance and gratitude.  Like the gratitude you would feel if Thor made sweet love to you.  And that's the kind of gratitude that people are supposed to feel on Thanksgiving.
Furthermore, it's interesting that American Thanksgiving must fall on the 4th Thursday in November.  The number "4" has long been associated with Jupiter.  Magic squares of Jupiter are 4×4 and the 4th sphere on the Tree of Life, Chesed, is identified with Jupiter.
So, Sagittarian revelry and Jupiterian abundance and gratitude.  Jupiter is actually considered the ruling planet of Sagittarius, implying that abundance and gratitude are, in fact, the basis of revelry.   So…we have a supposedly secular holiday, of an overtly Jupiterian nature, occurring on Jupiter's day of the week, and just as the Sun enters a Jupiter-ruled sign.  I don't buy it.  This is the kind of precise calendrical placement only star-gazing heathens use.  Thanksgiving is clearly a-
SECRET PAGAN HOLIDAY!
TAKE UP THE ARMOR OF CHRIST, BRAVE SOLDIERS OF GOD!
PURGE THE TURKEY-IDOLATERS FROM THE TEMPLE OF AMERICA!
STRIKE DOWN THE GRAVY EATERS!
SMITE THE STUFFING TASTERS!  SMASH THE MASH POTATO LOVERS!