Astrology 11/7-11/13: Roles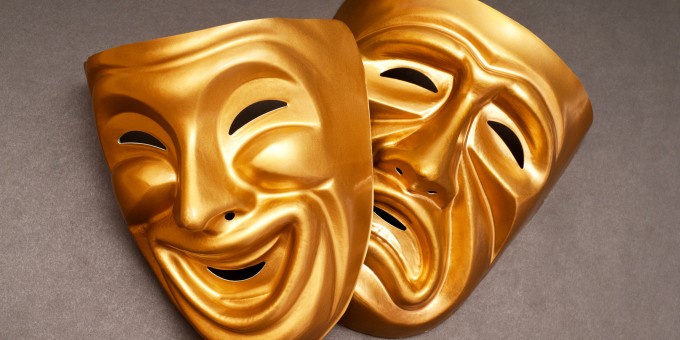 Mars, Venus and Mercury all change signs this week, significantly altering the ambiance for the remainder of the month.  The first of these shifts is Mars, who enters Aquarius on the 8th.  The second is Venus, who moves into Capricorn on Friday, November 11th, and the final shift is Mercury, who enters Sagittarius on Saturday the 12th.
Mars in Aquarius:  The Dispossessed
Mars shift into Aquarius at the end of election day is interesting, as the red planet's movement from Capricorn to Aquarius is a major change.  In Capricorn, Mars is considered to be in a place of power- ensconced in a mountain fortress, behind a big desk.  This is reflected, technically, in Mars being exalted in Capricorn.  In Aquarius, though, Mars has no throne, no fortification.  The red planet is nearly homeless in Aquarius, as it can lay claim to only a single, five degree section of Aquarius.
One of the ways we experience planets lacking in essential dignity is that the planet's power, in this case Mars, seems to disappear or fade away.  The bravery and knavery which Mars rules lose power. Rancor fades into the background, struggles seem pointless, goals seem to lose meaning.  It is if a candle is blown out.  Those who depend on the ferocity of the red planet to guide them may struggle while it is in Aquarius.
Yet all extremes, even those of lassitude, generate their opposite.  Thus a planet with little or no essential dignity will occasionally act out in frustration. As Mars has no position in Aquarius, it's time there speaks of and to those without position or authority- the discontents and outsiders of systems.  It is easy to see how these significations will inevitably apply to the constituents of the candidate who loses this week's election.
Thus Mars' time in Aquarius is a bit of a bardo for the red planet, a wandering and wondering what can be done.  It is thus a trigger for existential issues, questions of what does, and does not, have meaning.  Contemplation and frustration are paired here.  Mars' time in Aquarius may also serve to exaggerate anxiety for those who are prone to it.  If you find yourself caught up in the teeth of existential angst or blown about by the cold wind of anxiety, remember to ground yourself in the limited facts of the knowable present.  Not all futures or possibilities are worth contemplating.  The red planet will be in Aquarius until December 19th, when it enters Pisces.
Venus Enters Capricorn:  Restrained
On Friday, November 11th, Venus enters Capricorn.  I described the evening stars' entrance into the goat's sign in "November 2016:  Sorting Stories," like so:
 No doubt exhausted after her wild ride through Sagittarius, Venus comes to Capricorn seeking earthier delights and assurances.   Venus' time in Capricorn enflames lust for security and order, yet it also stokes desires of a more bodily and unrestrained sort.
The tension between responsibility and lust can be imagined in the figure of a were-goat.  Respectable, property-owning corporate citizen by day, decadent, Bacchic satyr by night.  Were-goat likes bondage, but with legal agreements and responsibilities as the primary restraints.  Venus will be in Capricorn until December 6th, when she enters Aquarius.
Mercury Enters Sagittarius: Objects In the Mirror
The week's final wardrobe change is Mercury's exodus from Scorpio on Saturday. The messenger enters Sagittarius, switching from intense and secretive to bombastic and excitable.  As I wrote in "November 2016: Sorting Stories:"
In the Archer's sign, Mercury stimulates the ecstatic philosopher's vision and the propagandists' bull-horn, as it tends to give voice to both the non- as well as the trans- rational.  In both cases, excitement threatens to overwhelm clarity.  This tendency is, however, counter balanced during Mercury's visible conjunction with Saturn on the 22nd, when Mercury will pick up on Saturn's sobering tendencies.  The swift planet will be in Sagittarius until December 2nd, when it enters Capricorn.
Mercury is considered to be in its detriment in Sagittarius, as the centaur's enthusiasms tend to distort the reasoned analysis and logical intricacy the swift planet prefers.  In Sagittarius, Hermes gets stuck looking through a telescope, able to see what is shining and distant with great clarity, but blind to what is close at hand.  Telescopes are useful, but threaten to distort our sense of scale if we cannot remember that objects in the mirror are more distant than they appear.
HOROSCOPES
Horoscopes are not a real chart reading by an experienced astrologer. They are fun and can be reasonably accurate, however. In addition to referring to your Sun sign, read from your Ascendant and Moon if you know them. If you don't, find out! I'm a long time fan of the free chart generation software at astro.com.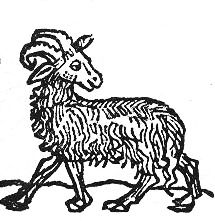 Aries: The Ram
Mars' ingress into Aquarius shifts the red planet's influence toward your social world- the networks of friends, colleagues and such to which you belong. While Mars is there, you may have to deal with more squabbles than usual. In addition, you may feel more isolated, or perhaps, more desirous of isolation. A little time alone can be a fine thing.
Venus' time in Capricorn, which begins Friday, asks you to take pleasure in your work, and the people who labor alongside you. You may find Venus' time in Capricorn a bit dull, but there are hidden joys to be discovered amongst your labors. Finally, the entrance of Mercury into Sagittarius on Saturday puts the messenger in an excitable mood, compatible with your own fiery spirit. Let Mercury point your eyes to the horizon, and help you envision a map to help you navigate toward the future you most desire.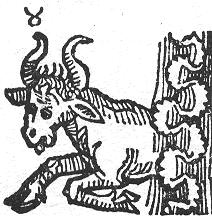 Taurus: The Bull
Mars' time in Aquarius, which begins this Tuesday, turns up the heat on your professional life. You'll likely find yourself busier, and with more fires to put out, while the red planet is in Aquarius. Venus' entrance into Capricorn on Friday, though, is a more favorable influence, as her time in the Goat's sign will deliver the inspiration necessary to help you continue the climb toward your big goals. Finally, on Saturday, Mercury moves into Sagittarius, with plans to help you further sort out the difference between "yours" and "mine."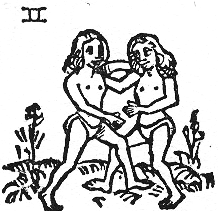 Gemini: The Twins
Mars' Tuesday entrance into Aquarius begins a 6 week period during which may challenge your progress toward big goals. You may have to struggle with both indolence and irritation- yet these are obstacles easily endured.
Meanwhile, Venus' entrance into Capricorn on Friday may see you considering the exchange of resources between yourself and others. Someone may have a present for you, though you may want to consider what they may want, someday, in return.
Finally, Saturday's ingress of Mercury into Sagittarius will pull your thinking toward relationships. Mercury follows Venus here, and so you may find yourself coming to a more rational comprehension of the feelings you've had over the preceding weeks.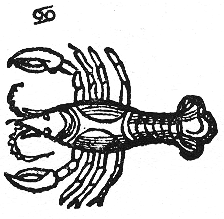 Cancer: The Crab
Mars enters Aquarius on Tuesday. During the red planet's time in the water-bearer's sign, you may have to dig a little deeper to find the motivation to get up and get it done every day. Venus' entrance into Capricorn on Friday, though, begins what should be a generally pleasant period of relationships and relating for you. Take a moment or two over the next month to appreciate the architecture of intimacy in your life.
The week's final shift is Mercury's Saturday entrance into Sagittarius. While within the archer's sign, Mercury will be excited about mundane, yet vital, tasks. Yet duty and enthusiasm are not incompatible- find the fun in crossing things off your to-do list.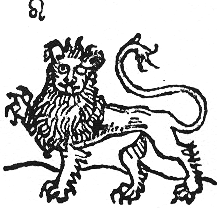 Leo: The Lion
Mars' entrance and subsequent presence in Aquarius will serve to highlight what, if any, conflicts are present in your more important relationships. If there are latent issues waiting to be addressed, you can expect them to come to the forefront. However, if there are no landmines waiting for an errant foot, then you can simply expect the occasional bout of irritation, and nothing more.
A little later in the week, Friday to be precise, Venus enters Capricorn, where she will reside for the next month. During Venus' time in the Goat's sign, try to find the joy in good habits. Think of it as diet and exercise BDSM, restraint being the key to pleasure.
Finally, Mercury enters Sagittarius on Saturday. The messenger's weeks in the archer's sign will help you clarify what you're spending your energy on, and what you're getting out of it.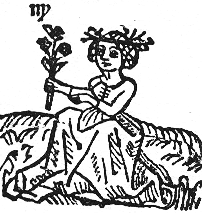 Virgo: The Virgin
Mars' entrance into Aquarius on Tuesday begins what will likely be a productive month and a half. Problems and their solutions are likely to arise relatively instantaneously. Though useful, the red planet's position over these coming weeks is not likely to be terribly joy-producing.
Fortunately, Venus' Friday entrance into Capricorn should be considerably more pleasurable. Contemplate ways you might offset the drudgery of your duties with a Bacchanalian delight or two.
The week's final shift is Mercury's entrance into Sagittarius on Saturday. This ingress puts the messenger in place to clarify your living situation and family dynamics. What you have been feeling for the last several weeks is due to become thinkable.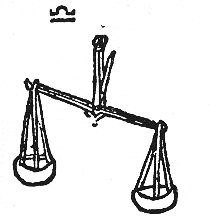 Libra: The Scales
Mars' entrance into Aquarius on Tuesday will see your efforts and conflicts shift from the domestic to the creative. What is it you can create? More importantly, perhaps, what do you actually care enough about to bring into being?
Later in the week, Venus strolls into Capricorn, bringing some ease to the domestic and familial topics you've been struggling with since September.
Finally, Mercury enters Sagittarius on Saturday, bringing your analytic mind to bear on the structure of your weekly schedule. The pacing that was so recently a matter of desire is due to become one of rational organization.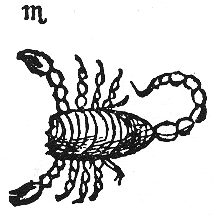 Scorpio: The Scorpion
Mars enters Aquarius this Tuesday, beginning a 6 week tour of the water-bearer's sign. While within its confines, the red planet is due to stir up irritations with your living situation and inflame familial relationships. Put aside a little time to put out small fires as they erupt.
Meanwhile, Venus is headed towards a Friday ingress into Capricorn. The evening stars' time in the goat's sign, should help grease the gears of your daily grind, making your schedule a little bit more pleasurable.
Finally, on Saturday, Mercury enters Sagittarius. Mercury's time in the archer's sign will help you see your financial situation with greater clarity. Discard fear and hope with equal disdain- there are facts here.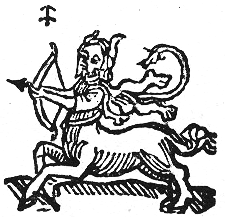 Sagittarius: The Centaur
Mars' Tuesday movement into Aquarius shifts the red planet's influence toward your weekly schedule. During Mars' 6 weeks in Aquarius, you may find your days stocked with more problem solving than usual. Later in the week, on Friday, Venus moves into Capricorn, where she'll be for the next month. There, the evening star will shine sweetly on your finances. Finally, on Saturday, Mercury enters your sign. Mercury's time in Sagittarius should help you sort this from that over the rest of November. Work to acquire clarity and you shall have it.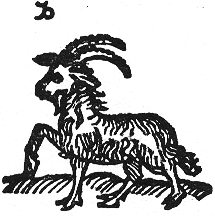 Capricorn: The Goat
This Tuesday, Mars enters Aquarius, signaling the red planet's exodus from your sign. Mars' move into Aquarius angles its crimson rays toward your financial life. Beware of burning cash during Mars' time in Aquarius- instead focus your efforts on protecting your reserves.
Come Friday, Venus moves into your sign, bringing a bit of sweetness to your mountain-goat lair. The evening star's time in your sign will help you return to your own emotional center. You may find, in that sacred retreat, more people waiting for you than you expected.
Finally, on Saturday, Mercury enters Sagittarius. The swift planet's time in the Archer's sign will stir neglected thoughts in the back of your head, pushing you to sort out points of confusion.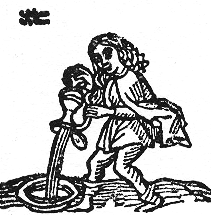 Aquarius: The Waterbearer
Mars moves into Aquarius this Tuesday. You should get a boost of energy during the 6ish weeks the red planet resides in your sign, yet you might also find yourself more prone to irritation and surly rebellion. Do your best to channel that ambient fire toward productive ends.
Later in the week, Friday to be precise, Venus enters Capricorn. In the goat's sign, the evening star will inspire you to explore your desire for stability and security, as well as some of the naughtier pleasures for which you occasionally yearn.
Finally, on Saturday, Mercury enters Sagittarius. In the archer's sign, the messenger asks you to think clearly about your social role. What is it that people expect of you, and how did you end up in this particular position?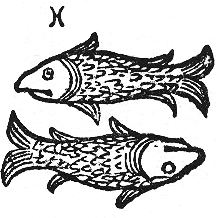 Pisces: The Fish
Mars' entrance into Aquarius on Tuesday stirs up a variety of ambient existential concerns. The search for meaning is elusive, as in many cases, it is only resolved when the question itself disappears. Yet Friday's ingress of Venus into Capricorn is due to animate your social calendar, pulling you out of philosophical retreat and into seasonal festivities. The week's final shift is Mercury's entrance into Sagittarius, which will help bring some clarity to your professional obligations, further defining both what they are, and are not.